-Q-
Quatermass - "Quatermass" (Harvest 1970)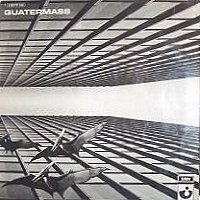 This British trio released a classic self-titled album in 1970. The music on their release sounded like a more complex and progressive version of Deep Purple. The album is a mix of long and progressive tracks and shorter, catchier ones. My favourite tracks here are probably "Post War, Saturday Echo" and "Make Up Your Mind". The first one is a great, emotional and slow track stuffed with lots of excellent and progressive Hammond-playing. The latter one is basically a very catchy and poppy tune, but with a very complex and long instrumental-part in the middle with some organ-work that must have impressed even Keith Emerson. The longest track on the album is an instrumental called "Laughin' Tackle" and this one also includes a string-arrangement which gives the music a symphonic touch. The strings are also used on the shortest track on the album, the ballad "Good Lord Knows". "Gemini" and "Black Sheep of the Family" are both energetic and hyper-catchy tracks with lots of Hammond-orgies. The latter one was also later covered by Rainbow on their first album. Classic stuff.
Quella Vecchia Locanda - "Quella Vecchia Locanda" (Help 1972)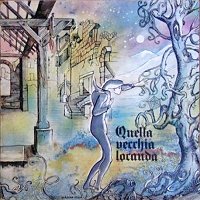 Excellent Italian group who released two classic albums of progressive rock. Their first album mixes elements of classic music with some Jethro Tull sounding progressive. VERY good, and with a sound of its own. The sound is strongly dominated by a lot of excellent violin and flute. The songwriting is flawless. From energetic progressive rock like "Prologo", "Un Villaggio, Un`Illusione" and "Il Cieco" to beautiful and lyric tracks like "Realtá" and "Verso la Locanda". The group`s sound is awesome, and this is with no doubt among the many classic albums from the 70's progressive rock scene of Italy.
Quella Vecchia Locanda - "Il Tempo Della Gioia" (RCA 1974)
A little bit different from the first album. You can still hear that this is QVL, but the tracks are longer and the sound is softer. "Un Giorno, Un Amico" and the quirky and complex title-track have also some jazz-tendencies. "A Forma di..." is a pure classical piece with strings, harpsichord and vocal harmonies, and it sounds simply WONDERFUL! The opening track "Villa Doria Pamphili" is also very beautiful, of course with the band`s classical influence. The vocal parts of both this track and "Un Giorno..." is pure beauty. This album is less accessible than the debut, but it`s very good when you have listened to it for a while. Which one of the two albums you like best, is just a matter of your personal taste. You should get both, anyway.
Quicksand - "Home is Where I Belong" (Dawn 1973)
This Welsh band released their album of song-based progressive rock in 1973, only to disappear quickly right after its release (f**king surprise considering they were an obscure 70's progressive rock band!). "Home is Where I Belong" is a fine and respectable album, featuring melodic songs that occasionally go into complex and symphonic structures. The opener "Hideaway My Song" is a catchy and straightforward rocker with a good feel and nice 70's sound. But things do get more seriously progressive in "Sunlight Bring Shadows". It starts very tight and quirky with some intense drumming. From there it evolves into complex, flowing parts featuring good melodies and arrangements packed with organ, Mellotron and guitar. The simpler songs on the record, such as "Empty Street, Empty Heart" and "Time to Live" reveal a slight American West Coast-influence with nice vocal harmonies. But it's of course the progressive songs that make the LP worthwhile. "Overcome the Pattern" features some distorted organ, but it's kept well within a melodic format. The use of the Moog is sparse but tasteful, making a repeated appearance after each verse. "Flying" is the most experimental track, starting with sinister and distorted sounds before some surprisingly psychedelic vocals appear and finally climaxing into a Mellotron-crescendo with a high-pitched voice above the band's vocal harmonies. The title-track has a quite straightforward and simple structure, but the melody is really good and the arrangements have the needed progressive 70's feel. "Season" is a song pretty typical for the record, and floats into the instrumental "Alpha Omega" that undoubtedly is the symphonic highlight. It's based in a majestic Moog-theme surrounded by grandiose Mellotrons, surely a mighty and powerful combination. The closer "Hiding it All" is an atmospheric ballad, a pleasant and moody way to round off a good album.
Quintessence - "In Blissful Company" (Island 1969)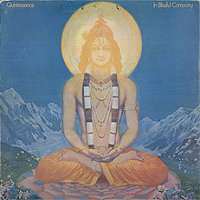 Not many progressive rock bands took religious and spiritual influences further into their music than Quintessence. The band were mainly attracted to Hinduism, but they also made references to Buddhism and Christianity in some of their songs. Musically they blended early progressive rock with elements of eastern music, and their debut "In Blissful Company" remains a very representative example of their sound. The opener "Giants" nicely combines the band's melodic, song-based side with their loser and more jam-oriented tendencies. "Manco Capac" introduces us to the flute of Raja Ram that would prove to be one of the band's main trademarks. The guitars often border on hard rock, something that brings the needed dose of dynamics to the sound. Vocalist Shiva Shankar Jones is also credited with keyboards, although there are generally very few of them to be heard in Quintessence's sound. "Body" and "Gange Mai" seamlessly mixes rock with strong eastern touches, often heard most in Jones' vocal style. The band always had one or two traditional chants included on their records, and the not so imaginatively titled "Chant" is one of the best they ever had, with beautiful chanting and tasteful arrangements. "Pearl and Bird" features probably Jones' best vocal performance on the record, and "Notting Hill Gate" sounds not all that far from what Jade Warrior did on their albums for Vertigo, although the sitar gives it a slightly different feel. But more than half of the second side is given over to "Midnight Mode". This ambitious track starts with some low-key chanting that goes into a lengthy flute-solo that ends in a hard rocking guitar-jam where some rarely heard organ from Jones also makes an appearance. The track finally fades out with some mystical, wordless vocals beneath the sitar. "In Blissful Company" is one of Quintessence's finest, but it should be said that all their three first albums are pretty equal in quality and style, so it doesn't matter much which one you start with.
Quintessence - "Quintessence" (Island 1970)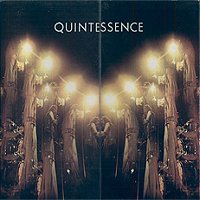 Quintessence's self-titled second album (dedicated to Jesus Christ, no less) featured two live-recordings in form of the two instrumentals "Burning Bush" and "St. Pancras". And they really do sound like live-recordings too, as they're both obviously edited from longer jams with loads of hard rocking acid-guitar but little else. However, they make sense and work well when mixed in with the far more structured studio-material of the LP. The anthemic "Jesus, Buddha, Moses, Gauranga" and "Sea of Immortality" (sounding like a spiritual version of early Jethro Tull) open the record and rank both as two of the band's finest songs, showing Quintessence in peak form both in the songwriting and performance. "High On Mount Kailash" is one of their most atmospheric and mystical songs, also showing some of their chant-oriented side. "Shiva's Chant" is however one of the least successful and interesting examples of that very same side. "Prisms" is on the other hand some delightful minutes of nothing else than Raja Ram's very hypnotic and dreamy flute. Mesmerising stuff. "Twilight Zones" is a much lighter song, although definitively sophisticated. "Maha Mantra" is pure native eastern music, while "Only Love" starts as a light song too, but evolves into harder rocking realms that prepare us for the raw jam in "St. Pancras". The album then goes back to its beginning again with the sounds of "Infinitum" that nicely rounds off another solid slice of Quintessence's unique "Hindu-prog". Recommended.
Quintessence - "Dive Deep" (Island 1970)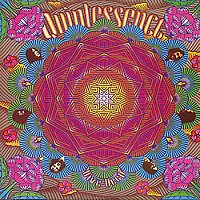 It was business as usual on Quintessence's third album "Dive Deep", but just as enjoyable as before, simply because the band at this point still were able of delivering good material. After a somewhat lightweight title-track, we're taken over on more adventurous ground in the lengthy "Dance for the One" where Raja Ram explores more of the flute-techniques he first introduced on "Prisms" from the previous album but now with the whole band backing him, including some Mellotron from Shiva far in the background. "Brahman" has one of the best melodies on the record, and remains among my personal favourites by the group. "The Seer" is a very nice ballad that features more Mellotron from Shiva, although he never allowed the instrument to be very dominant in the music the few places where he used it. The second side was opened with "Epitaph for Tomorrow" where the band's eastern-influenced progressive rock sound was mixed with what best can be described as epic heavy rock. The result is really powerful and exciting, and stands as one of their most ambitious songs. But the album closes on a far more typical note with the gorgeous chant of "Sri Ram Chant" that is next to "Chant" from the debut the best track they ever did in this style, but with a more epic feel. Quintessence were overall a good and original band, although time would show that they pretty much were burnt out creatively after the three first albums.